Spamihilator Documentation « Main Menu
Main Menu
Right-click on Spamihilator's program icon in the tray area to open the main menu: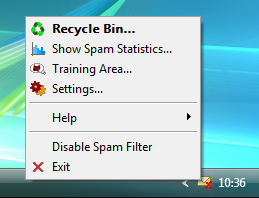 Exit
Closes Spamihilator.
Attention: You may not be able to receive mails when Spamihilator is not running.
Disable Spam Filter
Filtering will be disabled. Your mails will still be downloaded by Spamihilator, but they won't be filtered.
Help
Help->Documentation…
Opens this document.
Help->Frequently Asked Questions…
You will be redirected to a web site where you can find help for certain problems.
Help->Check for Updates…
Spamihilator searches the server (http://www.spamihilator.com) for a new release and opens the Download page if needed (see Check for Updates).
Help->About…
Get information about Spamihilator (version and license).
Settings…
Opens the Settings dialog.
Training Area…
Allows you to use the Trainingsbereich to teach Spamihilator.
Show Spam Statistics…
Displays an overview about the number of spam mails received (see Spam Statistics).
Recycle Bin…
Blocked mails will be saved in the Recycle Bin.