I haven't found any description of the new Rules Filter (Wizard) so I put together a brief description of the steps that I used to make a new Rule. I hope that this is helpful. If someone finds some errors please leave a note and I'll try to correct it or remove the post.
Mike
*********************
Spamihilator Rules Wizard Information
To create a new "Rule" open Spami's Settings Window (right click the Spami Quick Launch envelope icon and select Settings). In the left panel you should see a Rules folder, select that.
That will open the Rules main window with two tabs. Select the Add button in the Rules tab to bring up the "Add Rule" window.
You define your new rule in this Add Rule window. First assign a unique name for the rule. Next, you can select from two actions for Spami to do: 1) "Move message to the Recycle Bin" (this is the Spamihilator Recycle Bin) or 2) "Send message to the email client (Such as Outlook).
Determine the number of conditions that you want your rule to have and whether the rule will apply if one of the conditions is met or if all of the conditions are met and click off the appropriate check box.
Click the "+" symbol for each condition that you want to include and a formula line will appear for each click. If you click too many there is an "X" next to each one which will delete it.
Each condition includes two description drop boxes and an expression field. The first drop box identifies the area in the message that the condition will apply to. The second drop box describes the property that the condition checks for and identifies the expression field as a "Regular Expression" or not. The expression field can be either characters (and maybe some non-characters but these will likely be dealt with as Regular Expressions) or a Regular Expression (see Chactory's RegEx Description. )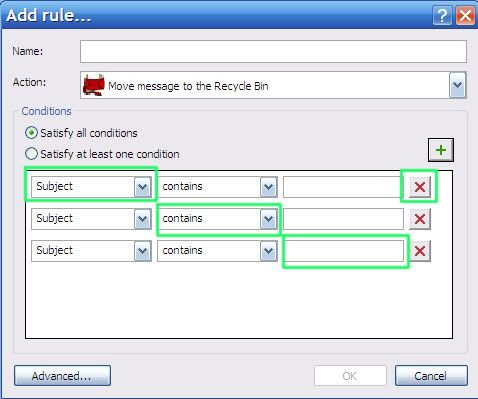 At the bottom of the Add Rule screen is an "Advanced" button for advanced settings. By default these are inactive. Advanced Settings allow you to enable one or two rule specific settings". 1) "Don't save mails classified by the rule filter in the Training Area." and/or 2) "Automatically learn from those mails." These two settings are specific for this particular rule. There is a "Settings" tab on the main screen that allows you to set these same two options for the combined rules overall.
Once you have set your conditions click "OK" at the bottom and either select to "Add"/"Edit"/"Delete" a rule or "Apply" the rule and click out with "OK"
You may wish to elevate or reduce the priority of the Rule Filter in the Priority section of the Filter Properties folder in the Main Settings Window.