Spamihilator Documentation « Friends
Friends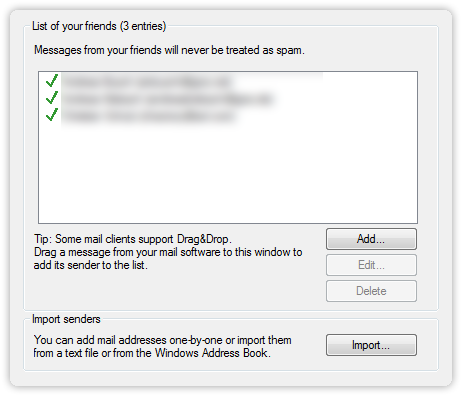 Spamihilator manages a list of your friends. Mails from these senders will never be deleted.
Add a sender
Click the "New…" button to add a new sender. A window will appear where you can enter the sender name and mail address of a friend. The mail address can contain wildcards (* and ?).
Some examples:
user@server.com
*@server.com
coolfriend@*.com

Never add the wildcard address *@* to the list of Friends. Otherwise you will receive every mail (even Spam).
Never add your own e-mail address to the list of Friends. Many spammers fake their address and use yours.
Edit a sender
Select an entry from the list and choose "Edit…" to alter its settings.
Delete a sender
If you want to delete an entry from the list, click on it and choose "Delete".
Import Address Book
If you have created an address book under Windows, you can add all of its contacts to the list of your friends. Simply click on "Import…".
When you click on "Import…", you can choose if you want to import your Windows Address Book or a text file. Text files, which need to be in comma-delimited format and have a .csv extension, can be generated by most mail clients.
Some mail clients support Drag&Drop. Just drag a mail from your mail client and drop it on the list to add its sender.